Beauty steals the show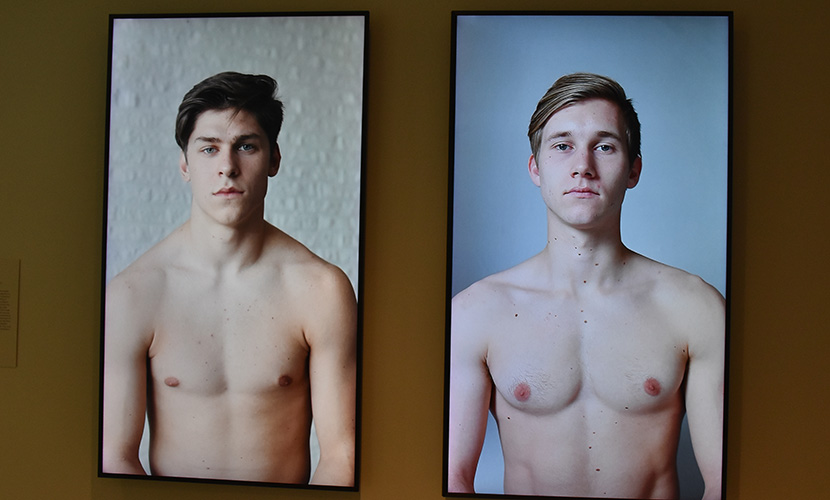 Rhonda Dredge | 11th May, 2022
Representations of queer men and women through the ages demonstrate the transition from coded to gritty to outrageous to poignant in the Queer show on at the National Gallery of Victoria.
There is something about visuals that makes the point about this journey more strongly than words.
In 1929 Cedric Morris was painting rather sweet, flamboyant pictures of pheasants.
By 2020 the naked larger-than-life torsos of beautiful queer men were looking viewers directly in the eye and blinking for good measure.
The story created by this queer curatorial team is told succinctly and evocatively.
Morris had met the love of his life, Arthur Lett-Haines, but his lover was married so he had to find a way of extricating both husband and his painting style from the ruling conventions of the day.
Somehow, he succeeded and, together, they founded an art school in East Anglia which paved the way for the more explicit figurative painting that followed. Their most famous student was Lucien Freud who attended as a teenager.
Fast forward 30 years and a gritty portrait of the film star Charles Laughton by well-respected English artist Bryan Kneale hints at some of the compromises forced on queer men in the name of keeping up appearances.
The painting suggests an anxious and complex character. Laughton's wife stayed with him when he admitted he was attracted to men on the one proviso. She asked him if he'd ever had sex with a man on their couch and when he replied "yes", she had it removed.
Such stories, while witty, reveal an undercurrent of malice that was still to be openly challenged.
By 1996, homosexuality was no longer illegal, and queers were out there, celebrating their wit and creativity in the public realm. That's when Glen Rollason established his Rude Boy fashion house in Melbourne.
Rollason designed a range of "active sportswear to do nothing in". One outfit on display includes tradie trousers with loops for holding tools and wrist cuffs that double as "tinnie holders".
The label was called Rude Boy because of Glen's frank and direct nature and his messaging was an ironic reference to working class Australian masculinity that must have pushed a few buttons.
Fast forward another 20 years and German designer Bernhard Wilhelm had brought out a very bright spring-summer collection that was playfully critical of the hetero-normative approach that Rude Boy was parodying.
His Californian range fell between "less is more" and "more is more" and included a ridiculous cap with a banana stuck on the top which a couple of queer visitors to the NGV said they'd wear to the market.
References to female queer culture are less prominent in this exhibition than male, with some commentaries by famous artists such as Tracy Moffart and Louise Bougeouis about the female body.
Art has always been a place where those outside the norm feel safer, according to the curators, and there are some eye-opening passages about fin-de-siècle aesthetes who studied at Oxford and the Ashmolean Museum and developed a repertoire of nymphs, satyrs and fantastic figures.
Some woodblock illustrations by John Buckland-Wright show a man and a woman embracing but, according to the experts, are "more evocative of a passionate lesbian embrace."
This is the first queer show curated at a public gallery by an entirely queer team and there is quite a lot of attention paid to the Symbolist and Aesthetic movements. "Imagination and fantasy have long existed as realms of queer possibility," the curatorial team wrote.
By 2020 beauty had gained supremacy and Drew Pettifer's colour video of two young, desirable men who blink for the camera but have nothing to say had stolen the show.
Queer: Stories from the NGV Collection, until August 21 •
Captions: Untitled Rael and Untitled Bram, 2020 by Drew Pettifer.
Virginian pheasants, 1929, by Cedric Morris.
Charles Laughton, 1958, by Bryan Kneale.
Spring-summer collection, 2016, Bernhard Wilhelm.
December 5th, 2023 - Brendan Rees
December 5th, 2023 - David Schout
Subscribe
to
all
the
news
Join our Facebook Group
Download the Latest Edition