Explore a more positive and interactive future of retail with BETA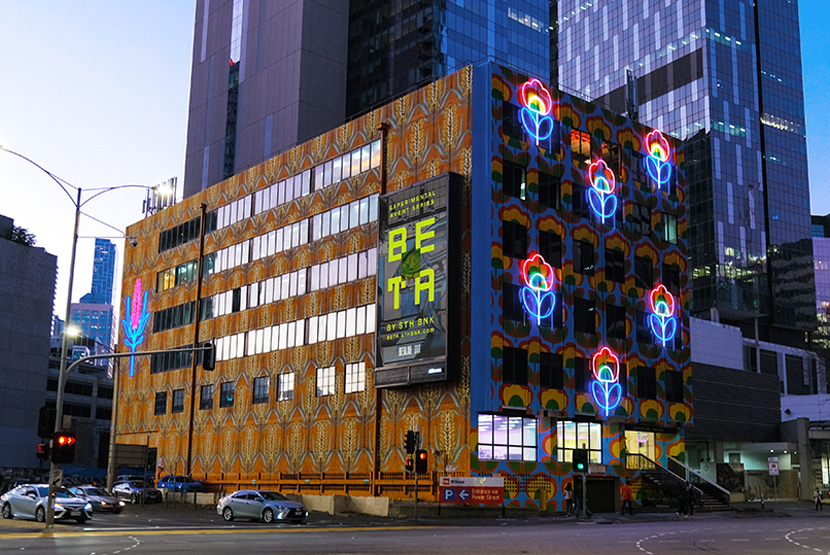 Kaylah Joelle Baker | 9th November, 2022
BETA by STH BNK is reimagining the future of physical retail and its contribution towards positive changes through its latest "engaging and entertaining" talk series NEXT X NOW.
The next panel discussion in the series will take place on Friday, November 11 at its Hanover House location, around the important topic of retail design for positive social change, and the invitation is extended to all who want to explore the creative space.
BETA is essentially an experimental space and, according to general manager of retail and tenant partnerships at property developer Beulah, David Monaghan, the name was about "experimenting, testing, trialling, and prototyping ideas".
The space has two vitally important floors that are based around the concept of reimagining a future outside of traditional brick and mortar limits and playing with these ideas in a playful and immersive way.
The ground floor is occupied by the Future From Waste Lab, which is in collaboration with a number of sustainable brands such as luxury fashion brand KITX. It is an educational workshop space where brands come and work with an on-site team to create limited edition new collections out of second-hand clothes, and use "waste as a resource".
Level four, which holds the much-anticipated talk series, also has a workshop space, an Atelier Open Studio, event space for hire, and a little retail pop-up area that "promotes products made by the artisans and designers" on site.
While the creatively interactive space, which was transformed from the inside by Sibling Architecture to the outside by artist Atong Atem, is ultimately an explorative space, instilled within its team is a deep drive for conversation and change.
Open since early 2021, the building is the result of an expansive research project Beulah conducted a few years ago with The Future Laboratory in London and BlueRock in Melbourne.
With Beulah soon to embark on its $2.7 billion STHBNK by Beulah development on the island site incorporating the current Hanover and BMW showroom buildings, Mr Monaghan said BETA had also been designed to share an insight as to what could be expected in what will be Australia's tallest mixed-use development.
"It was all about where the physical retail space was going and needing to go in Melbourne and Southbank in say six years' time, and what does it need to look like from a landlord's perspective," Mr Monaghan said.
"In my opinion it is not about being a traditional shopping centre, it's thinking about space in a very different way that is relevant for a younger generation that will dominate society and the shopping environment in the future."
"This demographic group wants different things in their life, [and] so sustainability, flexibility, experiences, storytelling, supporting brands focused around circularity, repurposing and recycling is all very important for them."
As opposed to thinking of the shopping experience as one bound to the traditional model of being very transactional and profit based, BETA is showing examples of what more can be done by everyone.
"Part of the future of retail is that brands should be contributing part of their profits towards positive social change, and then by [customers] going into a future retail space with a potential brand they align themselves with and buying something from that store or experiencing something in that store, they are then participating in contributing positively towards a better world," Mr Monaghan said.
"And then from our perspective [as landlord and developer], saying well maybe the role of the landlord and developer needs to contribute positively towards society and the planet as well, as opposed to just profit for-profit sake."
The mindset of an all-round perspective change is how through the casual, yet informative talk series, BETA hopes to see further engagement with the surrounding community.
While the discussion starts at 6pm, the NEXT X NOW series offers a night for like-minded locals to come together prior to the official start time, to share in a complimentary wine or beer, listen to music, walk through the space of the fourth floor, and chat to the on-site Atelier residents.
"I'd love to see BETA as a really local community place to come to for the Southbank residents, and something to be proud of, because it's creative, innovative and thinking about the future," Mr Monaghan said.
"The talk is about the rise of brands thinking about how they can improve society, and it's about reassociating yourself with brands that are playing a role in improving society and the planet."
The main theme of the discussion will be explored by four industry figureheads, with a time for questions to be asked and answered.
The next talk in the NEXT X NOW series is around the rise of wellness with a number of leading wellness experts, and will take place at the same time on Friday, November 25, with tickets also available on the website.
In addition to the talk series, BETA also has an upcoming papermaking workshop on November 25, and a zerotag workshop on November 27 which will explore the complexities around sustainable packaging and look at new developing ideas.
All events will take place at the Hanover House, which is located at 158 City Rd.
For more information about the talk series, visit sthbnk.com/event/nextxnow and to see all the upcoming events, including the workshops mentioned, visit sthbnk.com/events •
December 5th, 2023 - Brendan Rees
December 5th, 2023 - David Schout
Subscribe
to
all
the
news
Join our Facebook Group
Download the Latest Edition