Green tram tracks lack appeal as authorities work to find a solution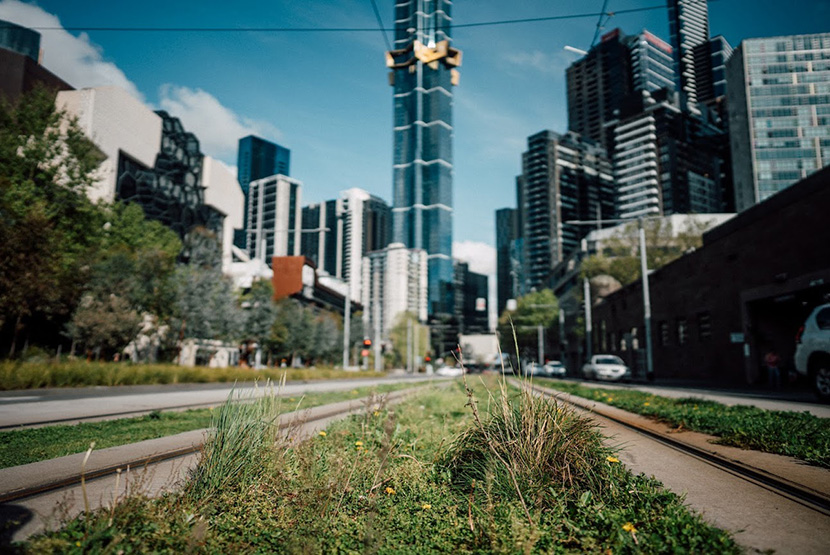 Brendan Rees | 8th September, 2022
A year-long trial to green tram tracks along Southbank Boulevard has been met with criticism as unhealthy-looking plants and bare sections of concrete fall short of community expectations.
Plant-covered tram tracks were first unveiled in 2018 as part of the City of Melbourne's Southbank Boulevard project which sought to complement the creation of open spaces in Southbank.
At the time the council boasted how the new grasses and succulents were in "full bloom" as it worked to beautify the area, but four years on the project hasn't quite hit the mark, according to critics and locals.
However, the City of Melbourne, Yarra Trams and the Department of Transport have rebuffed any suggestion there was a dispute over the project, saying they were "working closely" together to improve the green tramway while determining the "best options moving forward".
"We want to create a long-lasting and sustainable result that delivers benefits to surrounding residents and visitors to the Arts Precinct," a Yarra Trams spokesperson said.
The issue was brought into the spotlight after the former president of the Public Transport Users Association, Daniel Bowen, posted a message to Twitter in September saying Melbourne hadn't "quite mastered" trams on grass, with a photo depicting the unappealing look outside the National Gallery of Victoria.
Mr Bowen told Southbank News that the attempted green tramway along Southbank Boulevard had not been "looking great" and he hoped it could be improved.
"When done well, grassed tramways can be very aesthetically pleasing, providing greenery in a street otherwise full of concrete and asphalt, and reducing the effects of urban heat islands," he said.
"It can also serve as a reminder that trams are an environmentally friendly transport mode for our cities."
The current state of the trial is in stark comparison to the City of Melbourne's artist's impressions which showed a picturesque tramway lined with grass.
RMIT Centre for Urban Research planner Thami Croeser, who advises the European Union, said while it was common for artist's impressions to be more ambitious and hopeful than the real thing, the grass tracks at Southbank Boulevard "does fall quite far short – both in appearance, and extent".
"It's disappointing to see such a short strip of unhealthy-looking plants, surrounded by wide sections of bare concrete, possibly reflecting some kind of conservative engineering requirements," he said.
"A number of European cities have managed to deliver green tramways that look a lot like the artist's impression at a much bigger scale, so it might be time to look abroad for lessons."
Southbank 3006 residents' group vice-president Jannine Pattison said while the trial was initially a "positive initiative and an innovative way" of greening the area, it was now "very poor" and had "failed miserably to meet community expectations".
"It is indeed unfortunate that as the Southbank Boulevard upgrades get closer to completion the further away from the artist's impression presented at community consultation seem to be," she said.
"There is no point in promising a beautiful green tramway and then not delivering it in full."
Southbank Residents' Association president Tony Penna said the start of the trial was welcomed as "innovative and progressive", but the community was a "little disappointed at where it's at now".
"We're hoping the powers that be, whether it be Yarra Trams or the City of Melbourne or collectively, can find a solution that will get us back to what was originally desired."
Experts from the University of Melbourne have been tasked to review and analyse the results of the trial and provide recommendations.
Yarra Trams said the project was just one area where it was working to reduce their impact on the environment, with solar panels, skylights and energy efficient lighting having been installed across most Yarra Trams depots, while all of Melbourne's trams were already powered by solar power. •
Caption: Jannine Pattison, vice-president of Southbank 3006 residents' group, hopes Southbank Boulevard's "green" tramway can be improved.
December 5th, 2023 - Brendan Rees
December 5th, 2023 - David Schout
Subscribe
to
all
the
news
Join our Facebook Group
Download the Latest Edition