Labor pledges $1.5 million for a new pocket park outside ACCA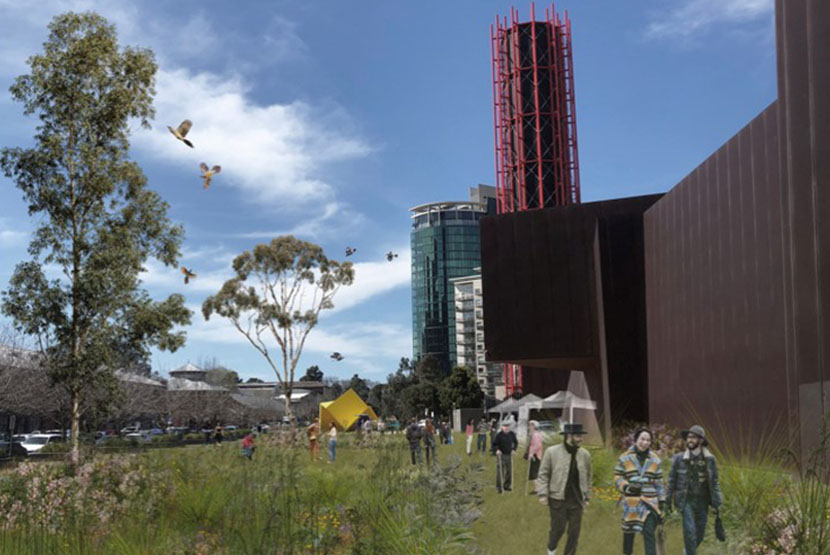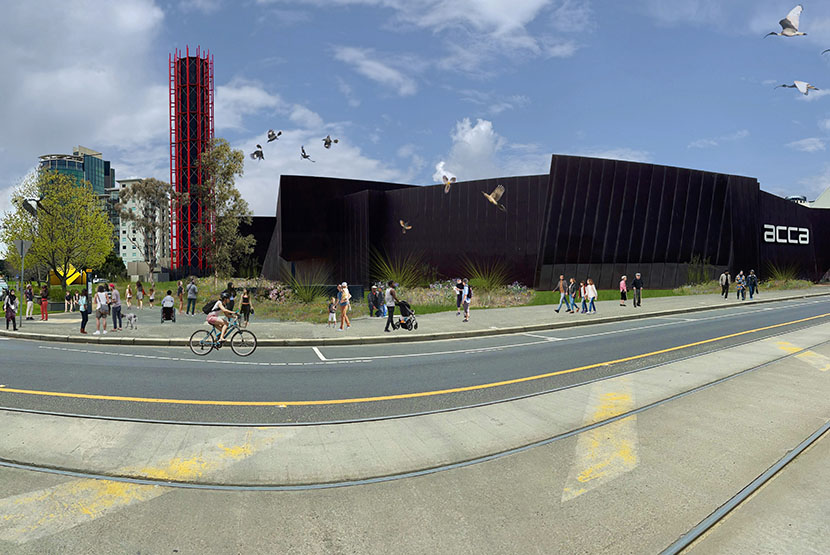 By Jemma van Zaanen & Sean Car
A re-elected Andrews' Labor Government will provide a $1.5-million grant to the City of Melbourne to support the development of a new green space and dog park near the Australian Centre for Contemporary Art (ACCA) in Southbank.
Labor's candidate for Albert Park Nina Taylor – who replaces long-time sitting member Martin Foley – made the announcement on October 27 alongside Minister for Environment and Climate Action Lily D'Ambrosio and Deputy Lord Mayor Nicholas Reece.
Also in attendance were ACCA's CEO Max Delaney, Labor's candidate for Southern Metropolitan Ryan Batchelor and representatives from local residents' group Southbank3006, which has been advocating for the park.
Responding to growing concerns around a lack of open space in Southbank, Ms Taylor said the pocket park would transform a "desolate wasteland of granitic sand" at the corner of Grant and Sturt streets into new green space for "local families to enjoy all year round".
"Open green spaces are so important for keeping healthy, active, and having a place to socialise," Ms Taylor said. "We know that land is sparse in the inner-city and so delivering this new park will be a great asset to locals and the community."
"This open space will create local jobs while it's being built, boost surrounding local businesses and provide social, health and wellbeing benefits for families for years to come."
Minister D'Ambrosio said Labor would deliver the project as part of its Suburban Parks Program, which had already created up to "6500 hectares of new parkland, walking trails, bike trails, pocket parks and dog parks" across Victoria.
"Our parks and gardens are what makes Melbourne one of the most liveable cities in the world – we're building on that by delivering more parks that are enjoyable and accessible for everyone," Minister D'Ambrosio said.
With Southbank currently sitting at around two sqm of open space per individual, well below the World Health Organisation's recommended minimum of nine sqm, the City of Melbourne has prioritised more green space in the area as was one of its "highest priorities".
Deputy Lord Mayor Nicholas Reece told Southbank News that the council had been looking at every opportunity available and was being "as creative as possible" in developing green space for Southbank.
"The plan is to convert the granitic sand wasteland and turn it into a green space which will be a magnet for people who are looking to congregate, chill out or have a picnic in green space," Cr Reece said.
"It's been terrific working with local residents on this opportunity and they have told us loud and clear that they want new, open green space that they can utilise."
Cr Reece said that subject to council approval, the City of Melbourne "looks forward" to this proposed investment being delivered should Labor be re-elected at November's state election.
Earlier this year, Southbank residents' group Southbank3006 proposed a dog park and green space for the ACCA forecourt area and has since been central to lobbying relevant stakeholders on the idea.
The group's president David Hamilton said it was "delighted" to see its efforts rewarded, adding that the project would add more green space than what had been delivered as part of the council's linear park at Southbank Boulevard.
"When this becomes green space, it will add a significant pocket park accessible to all residents from Kavanagh St precinct to the Arts Precinct to Southbank Village," Mr Hamilton said. "The size of this space will enable a variety of uses from an off-leash dog park to a space for families."
With the council having included $25 million over four years in its most recent budget to identify and secure new open spaces in Southbank, Mr Hamilton said he hoped this proposal would be the first of more to come under a "low traffic neighbourhood" model.
"It is our vision, and we know it is one shared by councillors, that the solution to open space in Southbank is to think creatively and not be locked into expensive land acquisition schemes."
"Integrating our ideas on low traffic neighbourhoods with delivering community gardens and spaces right alongside where people live in high rise developments is the next cab off the rank to making Southbank [the] liveable neighbourhood residents want."
"It will make an entrance statement on the southern end of the Dodds St linear park where the council and the University [of Melbourne] can display sculpture. This integrates the NGV, NGV Contemporary, ACCA and the university's arts departments and makes a precinct a reality."
"Freeing up area alongside ACCA as park and green space will encourage Southbank residents to think of ACCA as a local community gallery."
ACCA's CEO Max Delaney said the proposal was part of a "wider series of developments taking place across the Melbourne Arts Precinct, to improve the amenity of our cultural infrastructure and public realm, and to enhance the precinct as a destination for residents and wider community".
"Granitic sand was never the preferred intention of ACCA's architects, and additional green space will be a welcome addition to the contemporary Arts Precinct," he said.
Transurban was contacted by Southbank News for comment. •
November 7th, 2023 - Maria Tarrant
November 7th, 2023 - Mary Kay Rauma
Subscribe
to
all
the
news
Join our Facebook Group
Download the Latest Edition