Residents of high-rise tower plead for help as sewage leak overruns building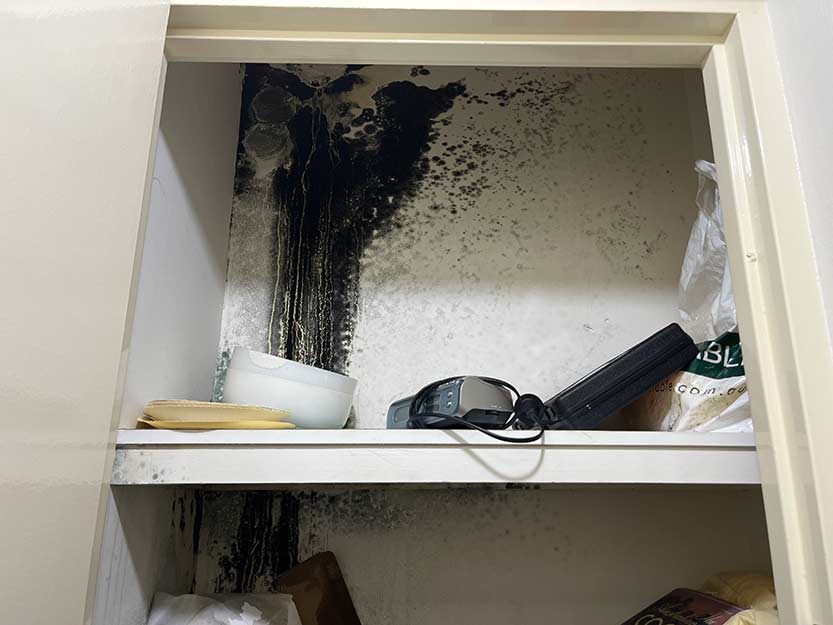 Brendan Rees | 7th June, 2023
Residents of a housing commission tower in South Melbourne are pleading for action as a major sewage leak causes their building to be overrun with black mould, which they say has become "unbearable".
The leak, which began two years ago at the Park Towers in Park St, has impacted multiple flats across the 30-level building, causing considerable distress to the residents who say their concerns have been met with deaf ears.
Many tenants have been relocated while others have been forced to use buckets to contain the waste as there appeared to be no maintenance works being carried out to rectify the leak, which has led to the popular community room being shut down.
The severity of the issue has also prompted concerns about the structural integrity of the building, as well as the health implications of the leak.
A Department of Families, Fairness and Housing spokesperson said the department was aware of the issue, which was first identified last September.
"However, the department has been unable to carry out necessary repair works to the affected plumbing vent located inside a resident's property," the spokesperson said.
"We have attempted to engage with the renter for several months to obtain access to the plumbing vent, however the renter is yet to provide consent."
"All legal and other avenues are being explored to access the property and ensure plumbing works are carried out as soon as possible. This includes lodging the matter with the Victorian Civil and Administrative Tribunal."
According to one resident, who spoke on the condition of anonymity, the leak had destroyed their home.
"In the end I had 25 buckets on my floor. That's not the end – the house exploded with sewage, running down my walls, running into the bedroom, and lounge room," they said, adding the sewage "would go over" their feet as they walked through their flat.
"I used to play Russian roulette to get into my kitchen without getting shitted on."
All of us have gone through the correct channels, asked them, pleaded with them, but we never get a response or any action.
On Good Friday, residents reported dirty water "streaming" through their lights, ceilings, walls, cupboards, light switches, and other sections of their homes, with a 10-litre bucket filling up in three hours.
Resident Anna Rogalima, who has lived in her flat for 30 years, described the conditions in her home as "horrible".
"It's urgent. People are complaining and nothing's happened," she said, adding "we are paying rent, that means we should have a good facility."
Ms Rogalima, who runs the Russian women's choir, is also devastated they cannot use the community room "until further notice" due to health and safety reasons as water pooled on a section of the floor, and mould spread throughout the toilet.
The community room, which had a $70,000 funding grant boost recently, was also popular for hosting events, birthdays, table tennis, Zumba sessions, movie nights, social days, and cultural celebrations.
Resident Mohammed Ahmed, 62, said he felt like they were being treated as "sub-human" as the problem caused him to be without hot water and electricity on occasions.
He said it wasn't uncommon to also lay towels on the floor to soak up the leaks a few times a week.
Mr Ahmed said he was "very proud" to be an Australian after arriving from Ethiopia in 2010, but added, "we need to be treated properly, like human beings". •
Caption: Resident Mohammed Ahmed in the common laundry room where black mould has begun spreading.
December 5th, 2023 - Brendan Rees
December 5th, 2023 - David Schout
Subscribe
to
all
the
news
Join our Facebook Group
Download the Latest Edition