The community centred cafe making some noise in Southbank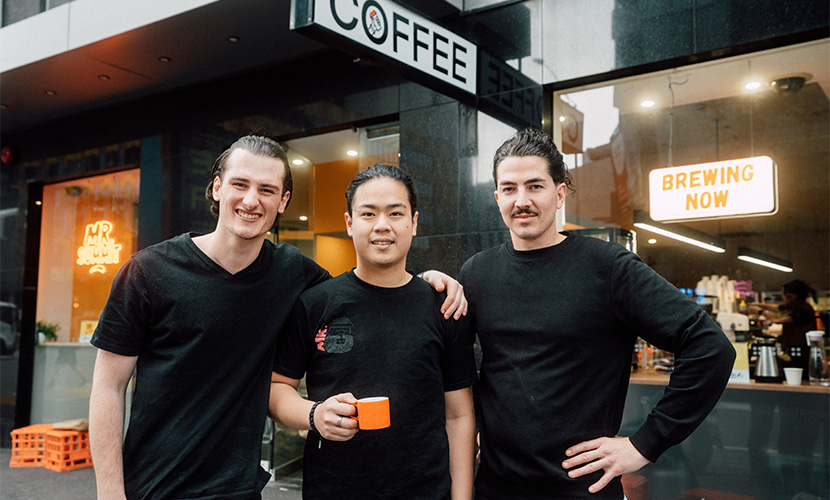 Kaylah Joelle Baker | 8th June, 2022
For Tony Rouillon, Daniel Emerton and Jordan Setiawan the past two months has been nothing short of amazing following the opening of their joint project Mr Summit Cafe.
Since opening on April 9, the cafe has already cemented itself as a space for the community and reached the highest number of votes for their coffee on a recent Southbanker Facebook poll.
It's an achievement they never could have predicted when opening their cafe during a time when some were struggling to stay afloat.
"To us it is pretty absurd but also incredible to think we have managed to make that much noise and build such a community so quickly," they said.
"But we think it really speaks to Southbank as a community rather than just us as a cafe because everyone is so tight, and they get around things they all enjoy."
From the music pumping through the cafe to the shared table situated in the centre of the space, it is clear to see Tony, Daniel and Jordan have made sure the cafe is not only a space for a coffee fix but also a friendly chat.
It is this approach coupled with the fact that they "love" their jobs that has seen them go from strength to strength.
Starting out the cafe with a distinct vision of an orange colour scheme as seen on their neon window sign and their takeaway lids, the cafe now also has merch to set them apart – a decision they said ultimately came down to giving back to the community and making a positive impact.
"We have [reusable] coffee cups made from plant fibre and a cylinder with coffee beans so when people have used all the coffee beans they can bring it back and get a refill with a two dollar discount," they said.
"It's about the sustainability and reusable aspect and this kind of thing is the foundation of our brand. It goes beyond the cafe."
With their reusable coffee cups even making it overseas as souvenirs, it is clear to see Mr Summit Cafe is innovatively changing the way of hospitality.
"As humans you can really sense when someone is genuine and we think that is why we have been able to take off so quickly because we are here for the community rather than for ourselves," they said.
"We are three young guys who just want to do something different, and we are able to be appreciated by the community because they can sense how much we appreciate them."
Although already set up and thriving, Mr Summit Cafe is not finished impacting Southbankers just yet with many exciting ideas and projects in the works over the next few months.
Until then, visitors can grab a renowned coffee alongside the cafe's equally-as-appreciated toasties seven days a week.
Mr Summit Café is located at 165 City Rd, Southbank. •
Photography by Murray Enders
November 7th, 2023 - Maria Tarrant
November 7th, 2023 - Mary Kay Rauma
Subscribe
to
all
the
news
Join our Facebook Group
Download the Latest Edition