Major upgrades take shape in Arts Precinct transformation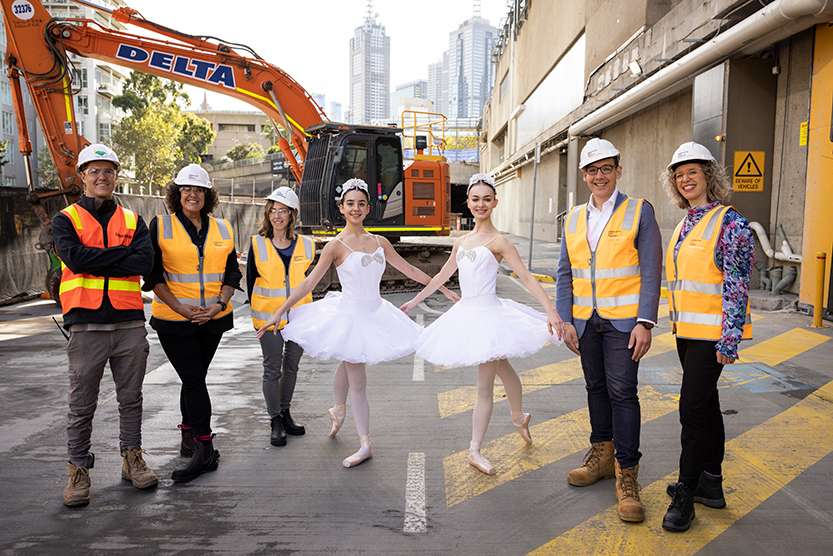 Brendan Rees | 10th May, 2023
Works on the $1.7 billion Melbourne Arts Precinct Transformation (MAPT) have ramped up with major construction starting on the State Theatre's refurbishment as well as a new urban garden.
A treasured Melbourne icon, the heritage State Theatre will be restored and enhanced, with works to include new seating, flooring, and other air conditioning improvements for audience comfort – the first time in its nearly 40-year-history.
Modifications will also be made to the expanded underground loading dock, which will double in size and open more opportunities for shows to be staged.
A new rehearsal space and studio, the same size as the State Theatre stage, will allow performers to rehearse and warm up on site for the first time.
Above ground, work will start on the foundations for the new public garden, about the size of the MCG, in the heart of the precinct.
Creative Industries Minister Steve Dimopoulos visited the site on April 28 to view around 80 different work sites, the number of which is expected to grow to 300 in the next six months.
"The Melbourne Arts Centre Precinct transformation will not only ensure we bring the biggest and best creative offerings to Victoria, but it will also create hundreds of jobs for Victorian tradies to work on this iconic project," Mr Dimopoulos said.
As a major component of MAPT, the Arts Centre Melbourne's Theatres Building (under the spire) is undergoing significant upgrades, which will bring the theatre's sound and staging technology up to world-class standards as well as vastly improving accessibility with wider aisles, bigger lifts, and new wheelchair-friendly viewing positions.
Most of the Theatres Building is underground and sections of the specialist engineering system that protects the building's foundation from corrosion will be replaced, safeguarding the building's future.
A concrete and steel terrace at the rear of the building has also been removed, making way for future excavation works to expand the building's footprint under Sturt St, which has been permanently closed between City Rd and Southbank Boulevard.
The transformation project will also see construction of Australia's biggest contemporary art and design gallery The Fox: NGV Contemporary.
Southbank3006 residents' group president David Hamilton said communication with residents by the Melbourne Arts Precinct Corporation (MAP Co), an entity created by the state government to drive the vision for the project, had been "extremely good", with briefings provided on a regular basis.
"The project listens and responds to residents and to date it's been very concerned to involve local community and local residents," he said.
However, Mr Hamilton said there had been some concerns about traffic management, "which involve flaws in design of Southbank Boulevard, because Southbank Boulevard's traffic design did not assume this project".
"So, there needs to be some work by the [City of Melbourne] to deliver better traffic flows, particularly the signal sequencing near Southbank Boulevard at Sturt St and Kavanagh St," he said. "That's the immediate issue. It really is between the council and the Department of Transport to get the signal work flowing a lot better."
Lendlease has been managing the early works of the project since July last year, during which critical shared services were relocated to keep Arts Centre shows running during construction.
Albert Park MP Nina Taylor said, "This project will deliver long-lasting benefits for our local cafes, restaurants, hotels and retailers, which will all get a boost from extra visitors coming to our city to enjoy the amazing creative and cultural offerings on display." •
Caption: Creative Industries Minister Steve Dimopoulos (second from right) visits the construction site with (from left) Sam Fallon, singer/song writer Casey Donovan, Karen Quinlan AM, Isabella Triscari, Estelle Crompton-Lamb, and Albert Park MP Nina Taylor. Photos: Charlie Kinross.
November 7th, 2023 - Maria Tarrant
November 7th, 2023 - Mary Kay Rauma
Subscribe
to
all
the
news
Join our Facebook Group
Download the Latest Edition